Pundit Andy Townsend has urged Tottenham Hotspur chairman Daniel Levy to sack Antonio Conte. 
The Italian and his future at the north London club have been under scrutiny recently following Spurs elimination from the FA Cup and the Champions League.
Then after seeing his side draw 3-3 against Southampton in the Premier League, the 53-year-old criticised the players and the ownership at Tottenham in a press conference.
With Conte's immediate future now unclear, one pundit has shared his thoughts on the current state of affairs.
Speaking on TalkSport, Townsend had this to say about the situation behind the scenes at Spurs and what action Levy should look to take regarding Conte after his latest outburst.
He said: "This one felt to me a bit like he's at the end of the line and he's at the end of the road and he's hit a brick wall.
"The team are going backwards a bit, he can't really get the message – whatever that message is – home to this particular group of players or they're not taking it on board. They're not carrying that out to sort the detail that he would demand, and as a result of that, he's decided to leave a bit on the players.
"It's a very dangerous territory for a manager to go down.
"But in this situation when Conte is talking [on], why doesn't he just go? Why doesn't he just say, 'listen, I'm done here, I've had enough, it's not working, my ideas aren't working.'
"[Levy] should give him the sack."
Should Spurs sack Conte now or at the end of the season?
Now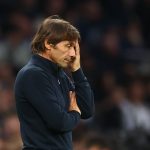 End of the season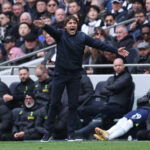 With a recent report claiming that Spurs are going to part ways with Conte, it seems that Levy has taken Townsend's advice and apparently chose to not let the current head coach see out the rest of his contract at the club.
As things stand, the Lilywhites are currently in fourth place in the Premier League table, one point behind Manchester United in third and two points above Newcastle United in fifth with 10 games left to play, although the two side around them have two games in hand on Tottenham.
This suggests that if Spurs were to go through the rest of the campaign without Conte at the helm, whoever is picked to lead the team will have a big challenge on their hands to secure a top-four finish.