Joelinton's double-miss for Newcastle United left watching reporters in shock as he squandered the chance to give the Magpies a lead at Old Trafford on Sunday afternoon.
Newcastle headed into their latest Premier League clash in sixth place and looking to secure a third successive win.
Up against fifth-placed Manchester United, they were never going to have it easy but certainly took the game to their opponents – and midway through the first half, Joelinton quite inexplicably failed twice to put the visitors ahead.
Indeed, the Brazilian headed a Kieran Trippier cross onto the bar, before nodding the rebound onto the post after it had fallen kindly back to him.
In response, there was sheer disbelief in the press box.
The Chronicle's Aaron Stokes wrote: "HOW HAS IT NOT GONE IN!
"WOWWWWWWW. Trippier's free-kick hits the wall before he lofts one back into the middle. Joelinton is there to meet it, unmarked, but his first effort is off the bar. Then his second effort hits the post!"
Meanwhile, Jordan Cronin of Newcastle World said: "Oh my… Joelinton has just [hit] the bar and post with two headers. Got to score!"
Elsewhere, The Northern Echo's Scott Wilson suggested Joelinton 'couldn't have done that if he'd tried'.
TIF Thoughts on Joelinton's incredible misses for Newcastle United…
With the scores level and plenty of the match remaining at the time, there's obviously no way of knowing how the game would have been affected by Newcastle taking an arguably deserved lead.
Scoring certainly would have been a just reward for Joelinton, whose form since Eddie Howe's arrival has drawn plenty of praise – including in a previous clash against Manchester United last December.
Amid Newcastle's promising start to the season, the midfielder's main disappointment this term will likely be his personal record in front of goal, with the Brazilian yet to get off the mark – making this latest misfortune all the more frustrating.
However, it is clear that Joelinton remains central to Howe's plans at St James' Park and continues to be a threat, which may suggest the club's prospects could go up a gear once he hits top form.
How important is Joelinton to this Newcastle side?
Undroppable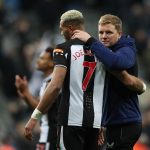 Wouldn't miss him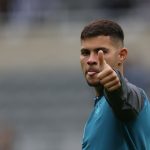 Sell him now