YouTuber Conor McGilligan recently slammed Leeds United defender Diego Llorente for his recent performance, labelling the defender as a player you can not rely on. 
After just four games in the 2022/23 Premier League season, the Yorkshire club ended Saturday sat fifth in the table, but they seemed to fall from their high standards in their recent defeat, where several players came under fire for their performances.
One player who was singled out was Llorente, who McGilligan felt had an 'absolute howler' and showed once again that he is not a player the team can rely on for consistently good performances.
Speaking after their 1-0 loss to Brighton & Hove Albion, McGilligan said on the One Leeds Fan Channel: "I thought Llorente had a howler, absolute howler. Thought he was bullied by [Danny] Welbeck throughout the entire game. It just is what it is, and Llorente has these games in him. I've always said to you guys he's rash, I've always said I don't rely on him.
"I don't depend on him, to be quite honest with you. He has a couple of good games, then he'll throw in one where it's just absolutely…
"You can tell with Llorente, when it's 5/10 minutes in and he's doing these passes that are getting intercepted, he's sliding in, he's looking very skittish on the ball. You can tell he's having one of those games, and I thought he had one of those games straight off the bat today."
TIF Thoughts on Llorente's performance…
After the Whites incredible 3-0 drumming of top-flight giants Chelsea, it is easy to see why McGilligan and other Leeds fans would be disappointed with their defeat on the south coast this past weekend.
Llorente certainly did not do himself or his team any favours this weekend, judging by his SofaScore stats. In the 90 minutes he played, the Spaniard lost possession 17 times – which led the team alongside winger Jack Harrison. He also only managed to make three of his 12 long-ball attempts, showing that he could have used the ball more wisely from the back to help his side in their efforts to pick up points.
Leeds were one of the leakiest sides in the Premier League last season, which was a major contributing factor to why they only narrowly escaped relegation. If they want to have more success this term and capitalise on their start, they need to make sure they are more defensively sound, and from his recent performances, Llorente cannot give them assurances on this.
They may even need to look to bolster their defensive options at centre-back, and with under a week left in the window, it looks nearly impossible. They will desperately need Llorente to pick up his form and find consistency if they are to stay up again.
Should Leeds sell Llorente?
Yes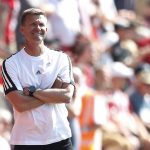 No