According to journalist Charles Watts, Arsenal's Premier League rivals Liverpool could look to set their sights on young stars Gabriel Martinelli and Bukayo Saka in the summer to replace Sadio Mane.  
The north London club have stated their intention to invest in their side despite failing to reach the Champions League qualification spots at the end of this season. However, it now appears that not only will they need to do a job attracting talent to the Emirates Stadium, but they may also find themselves in a battle to keep some of their finest talents.
According to journalist Watts, Arsenal's Premier League rivals Liverpool could be looking to swoop for one of the Gunners' star attackers in Martinelli or Saka if the Merseyside club lose key winger Mane to German giants Bayern Munich.
Watts stated on his YouTube channel: "If Mane goes to Bayern Munich… it wouldn't surprise me at all if we start seeing an awful lot of stories linking Liverpool with Martinelli or Bukayo Saka – two players who Jurgen Klopp really likes.
"I mean, he can't stop gushing about Martinelli every time he sees him, he's gone on record so many times about it. And obviously, Liverpool are going to be looking at who they want to replace Sadio Mane, and when you've got two players who Klopp likes and has glowingly talked about, who only have two years left on their contracts and are very young, it's just not rocket science."
TIF Thoughts on Watts' comments…
It is no secret that Liverpool boss Jurgen Klopp has stated his love for Arsenal's Brazilian forward, with the German manager calling him a 'talent of the century' after their 5-5 draw with the Gunners back in 2019.
He said: "He's a talent of the century, he's an incredible striker, so it's really difficult. It was not in this game only. I watch a lot of football, so I saw the Europa League games of Arsenal… He's 18 years old, right? So our scouting department is all over the world and stuff like this, but I think Edu gets all the credit for that signing."
While it will be hard to replace Mane, looking at Martinelli and Saka is a great idea, much to the dismay of Arsenal fans. The Brazilian racked up six goals and seven assists in all competitions last season, while Saka impressed fans from all over the country with his 12 goals and seven assists and has been nominated for the PFA's Young Player of the Season.
Arsenal will want to do everything they can to keep both players, but when you fail to qualify for the best competition in the world season after season and a team like Liverpool come knocking, it is always going to be difficult to keep your best players.
Who will be the bigger miss?
Saka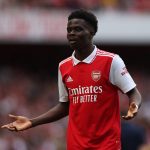 Martinelli