Charles Watts has spoken about Arsenal's plans to pursue Nabil Fekir during the upcoming transfer window.
Reports over the weekend from Spanish outlet Estadio Deportivo have claimed that Arsenal, along with Barcelona, are interested in securing his services this summer. Watts has also reported that whilst Fekir has a release clause of £77m (€90m), his current side Real Betis would be willing to accept an offer of £26m (€30m) due to current financial problems.
But speaking on the latest edition of his show (3:17 & 4:38), Watts was keen to stress that whilst the club are interested in him, but that he is very much number two on their list of priorities in that number ten position:
"So in terms of what I know about this situation is that Arsenal are believed to be still watching Fekir, he's one of the players that they are looking at in the playmaker department. Obviously, I think the priority at the moment is Martin Odegaard and what happens to him, can Arsenal keep him for at least another season or even turn that move permanent?
"My understanding is that Fekir could potentially be let go for around €30m if an offer of that sort of figure arrived then Betis could be convinced in letting their playmaker go. Arsenal you know are aware of all of this situation now. I'm not sitting here now saying Arsenal are gonna go for Nabil Fekir, absolutely not. I think as I said Martin Odegaard will be the priority in that regard but Fekir is certainly a player that they are keeping tabs on in case something happens with Odegaard."
Will Odegaard stay at Arsenal beyond this season?
Yes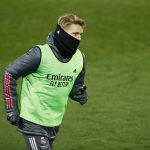 No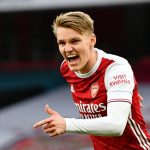 TIF Thoughts on Charles Watts' comments about Nabil Fekir and Martin Odegaard joining the club
Watts' comments about their priorities put clubs in the window are an interesting one, because in a sense it puts a time limit on when they can really negotiate with Real Madrid about Odegaard's future.
Because with Barcelona reportedly snooping around as well, they don't want to spend too long trying to bring back Odegaard in one way or another, miss out on him, and also be too late to bring in Fekir if he decides to go elsewhere.
So whilst the window may not be open for a couple of months, the time for wheels to really start turning, ideally, is right now.
In other news: 'As far as I'm aware' – Charles Watts suggests key Arsenal man may be offered new deal