Some Celtic fans have been left reacting to a photo involving goalkeeper Craig Gordon and a Kilmarnock fan following the club's recent 3-1 win over the Killies in the Premiership.
A controversy involving Leigh Griffiths had ensued in the game, as the striker appeared to be throwing an object at an angry Killies fan. Griffiths was on the scoresheet in the game, while Odsonne Edouard and Christopher Jullien had also scored a goal each for them.
Was Gordon right in confronting the fan?
Should've smashed him to pieces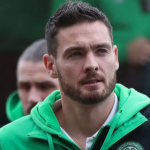 Stepped over the line!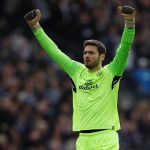 After the game, images of Hoops' goalkeeper Gordon went viral. The veteran seemed to be confronting the fan and many Hoops fans have left raving by the images. They made their opinions clear on social media.
Good on Gordon! Top man

— LouMun 67 (@lfmunro) January 23, 2020
Well done Craig Gordon. Pity our board don't have the same fight and backbone when it comes to our club

— J julien (@the_LEGEND1976) January 23, 2020
Hope karma does it's work to this low life

— Martin McLaughlin (@thebigcup67) January 23, 2020
Well done Craig.Hope he gets a ban.

— francis boylingoli (@BoyleFrancis) January 23, 2020
Never saw that on the telly,strangely enough

— Steven (@stevenmck27) January 23, 2020
Conveniently not shown by the media!

— Alan White (@alanwhite1888) January 23, 2020
Will Mr Lawwell say anything.
No chance but I my be wrong.

— Stevie TC (@StevieTC1) January 23, 2020
Will done Craig Gordon. Old man thinks its ok to verbally abused someone but no ones allowed to do or say anything to him. Although I'm sure the SFA will still ban Gordon and Griffiths.

— Nathan Linton (@NathanLinton2) January 23, 2020
The 37-year-old goalkeeper is yet to make a single first-team appearance in the Premiership for the Hoops this season. In all competitions, the goalkeeper has made six appearances for the club and four of them have been European appearances.
Last season, the former Sunderland and Hearts man made as many as 32 appearances in all competitions for the club. 15 of them were clean sheets, conceding only 27 goals for the club.
In all competitions for the club, Gordon has made 242 appearances since joining the club in the summer of 2014. During that time, he kept 121 cleansheets for the Hoops.
What do we think?
Gordon stood up for a teammate and there is every reason for Hoops fans to laud him for it. Even when he isn't playing, he is making fans appreciate it. It shows how much of a leader he is.