The Daily Mail's Craig Hope has categorically ruled out Eddie Howe leaving Newcastle United and potentially taking the England job anytime soon.
Howe has come in for a lot of deserved praise recently after marking a year as the Newcastle boss – taking the Magpies from relegation candidates to top-four hopefuls in that period of time.
However, with that sort of achievement has come speculation over his future, and talk has been rife about him possibly replacing Gareth Southgate after the World Cup, or whenever he decides to leave his role with the Three Lions.
But Hope is adamant that Howe won't be leaving Newcastle for England – or any other job – as he spoke about the manager's future on the Off The Ball podcast.
"It won't happen. I can 99.9% sit here now and say even if the FA came in and asked Eddie Howe to be England manager – which I think they probably should if Gareth does go – he would say no.
"The England job will always be the England job; the England job will be the England job in five years' time, ten years' time.
"Eddie Howe is still a relatively young man, he's only 44. The Newcastle job, at this moment in time, is unique. It's once in a lifetime. It's the most exciting project in world football.
Are you worried about Howe's future?
Yes!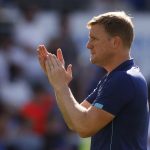 No!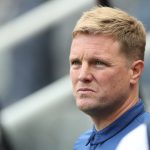 "You don't leave the Newcastle job as it is now to go and take over England. That might sound like a crazy thing to hear, I don't know. But it's the truth, and that is how Eddie's thinking at the moment. There's no way he would leave Newcastle for any job in the world right now; I can confidently say that, I really can, knowing him and speaking to him about this in recent months."
TIF Thoughts on Howe's Newcastle future…
While the lure of managing England will always be huge for any English manager who's thriving at club level, as not many things can top being the man that leads their country out at Wembley and major tournaments, Howe has only recently signed a new long-term contract with Newcastle after being rewarded for the work he's done in his short time there, so it appears very unlikely that he'd be looking to leave.
As Hope said, the job at Newcastle is very unique at the moment as they are one of the most in-form sides in England and sitting third, not to mention being backed by a huge amount of wealth, so what they can achieve as a club leaves an exciting future in store, so Howe will likely wish to be part of that.
The moment of truth for Newcastle may come if and when England are knocked out of the World Cup in the coming weeks and Southgate subsequently leaves his post, which could give Toon supporters more reason to be cheering on the Three Lions in Qatar.