During a recent interview on the NUFC Matters podcast, journalist Ben Jacobs claimed the Newcastle United owners need to talk to the media and fans more after they pushed 'transparency' when they bought the club. 
Back in October 2021, the Magpies were shot into the stratosphere of world football when they were released by former owner Mike Ashley and taken over by a combination of consortiums.
As a result, the club have started to rebuild the squad with their new fortune and have spent over £200m in the last two transfer windows. While this has certainly pleased fans, there is one area in which the club still need to improve.
Jacobs recently claimed the owners of the club have not done a great deal of press and this needs to change as they pushed 'transparency' as a part of their mission when they initially bought the club.
He told Steve Wraith: "A lot of majority owners are the same, they don't do a great deal of press. But I think that every group is different, and Newcastle pushed around transparency in the build-up to the acquisition of the football club.
"And suddenly the fans and the media hadn't heard from the majority owner at least on record. And I think that that should change."
TIF Thoughts on Jacobs' comments…
Since the takeover has taken place there has been an outcry from other clubs and fans in the United Kingdom around the ethical reputation of the owners and the country they hail from.
These accusations and questions around the club is not going to be good for the reputation of the club and can affect the future of the club and how they are seen in football, and in society as a whole.
The owners of the club need to be more active in the public eye and show they do not share the controversial and morally wrong values that have been associated with them. It is egregious that they pushed the idea of transparency and their majority owner is yet to go out on record to the media and the fans.
We think this needs to change as soon as possible.
Should the owners talk to the press more?
Yes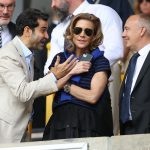 No