According to journalist Ben Jacobs, Newcastle United could spend around the £600m mark but won't due to the club's transfer strategy. 
The Magpies have splashed the cash in the last two transfer windows on big signings like Alexander Isak, Bruno Guimaraes, Chris Wood, Sven Botman and Kieran Trippier to bolster their squad in order to make a push into the top ten of the Premier League.
As a result of their new owners and newfound wealth, they are able to spend a lot of money to fast-track their project and potential as one of the most exciting clubs in world football. However, according to Jacobs, they do not want to do this.
During an interview with Steve Wraith on the NUFC Matters podcast, Jacobs revealed that while the club could spend around £600m in one window, they have a strategy for their transfer targets which does not include throwing their money around.
He said, "And I agree with Swiss Ramble that it could be as high as £600 million if they did just want to blow all of their money across one window. But I think that Newcastle are not looking at the number because they can make most numbers work.
"They're looking at what is right to spend on the football side for what they need right now. And right now, they don't need a Neymar on £350,000 a week, or even a Mbappe. That's the type of player that a Newcastle fan would say, well, of course, we'd take him, but it's strategy. And the strategy is not just what you want and can afford. It's also what is realistic and likely for your football club."
TIF Thoughts on Jacobs' comments…
Despite not wanting to spend a ludicrous amount of players right now, the Magpies have done well with their money so far, spending £122.4m this summer and £90.99m in the 2022 January transfer window, according to Transfermarkt.
They are building an exciting team under Eddie Howe with the likes of Isak, Guimaraes, Botman, Trippier, and Nick Pope as their spine. But we think they will need to continue to spend more and more money each summer if they are to stay competitive and keep progressing.
This makes their plan to not spend £600m right away an incredibly smart idea. The worst thing they could do is spend that amount of money on players who will only last a couple of seasons and not impact the side as they should. Newcastle are smart, and if they continue with this mindset they will only go from strength to strength and will eventually challenge for a title.
Should Newcastle spend more money now?
Yes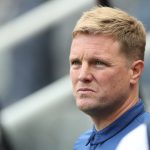 No