Injury specialist Ben Dinnery has claimed that Fulham star man Harry Wilson could face a long time off the pitch after picking up an unknown long-term injury during a behind-closed-doors friendly. 
In order to secure their Premier League status and not immediately return to the Championship, Fulham will need all their key stars fit and ready to go for the entire season, otherwise, they could face a quick exit from the top flight.
Unfortunately for Fulham fans, however, it appears that their key man, Wilson, has picked up what could be a long-term injury and Dinnery believes in the worst-case scenario he could be out until after the World Cup, which finishes in December.
Dinnery told the Premier FPL Injuries show, "The injury that we know occurred in a behind closed doors friendly. Therefore, we have no video footage, we have no mechanism. We're just trying to interpret what Marco Silva was saying with regards to the problem.
"And it being it doesn't look like it's good news, suggesting an indication that it could be long-term now, one man's long term, you know, what does that actually mean? You know, best case scenario, if we're talking maybe some meniscal damage, damage to that cartilage or MCL or LCL, then maybe we're looking in at around that region of two to possibly four months, depends obviously, if surgical intervention is required.
"If it's something more substantial, significant, in terms of maybe a cruciate ligament, whether it be an ACL or, or a posterior cruciate ligament legacy, we don't know at this point, then we're going to extend that timeline significantly.
"So, you know, if those initial fears are confirmed, then you know, Fulham could be lucky to see Harry Wilson, this side of the World Cup, it may be that we're looking at earlier next year". (26:21)
TIF Thoughts on Wilson's injury…
While the extent of the injury is currently unknown, any significant time off the pitch will hurt Fulham's Premier League survival hopes and if he is unable to return before December, it could be too late for him to save them if the worst happens.
The Welsh international was imperative during their promotion campaign last season and was involved in a lot of goals for the Cottagers as he picked up an impressive 11 goals and 21 assists in all competitions, and led the entire Championship in assists last season.
Fulham are already likely to struggle to survive the season, but without their key player for a large and important portion of the season, it could be nearly impossible. Fans will certainly be wishing for good news in the coming week.
Will Fulham survive the season?
Yes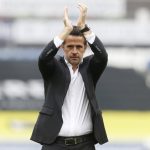 No