Newcastle United fans have been counting down the seconds to the January transfer window and now we're here. Although the Kieran Trippier news was a positive start, a new stumbling block with Donny van de Beek's potential move has emerged.
The Dutch midfielder has a legally binding contract with his former agent which will stop him moving in any capacity until the summer when the contract expires according to The Daily Mirror's Simon Mullock last night.
Would Van de Beek join NUFC?
Yes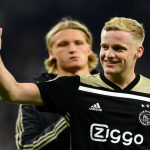 No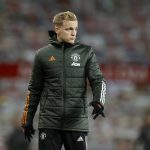 That's a huge blow to the Toon Army who were hopeful Van de Beek would ditch the Old Trafford bench for St James' Park. NUFC360 on Twitter relayed the news to supporters, who weren't afraid to hide their feelings at the news.
What the Newcastle fans said about the Van de Beek update
"An agent can't stop him from moving. They'd just have a case for breach of contract arising out of the action and be entitled to compensation if they are then successful in said action." @dazzacon
"He'd be my number one target." @Bear_Size
"Nothing that the prospect of a transfer everyone making money from can't cure, in a World Cup year I can't imagine that agent's 'asset' will be appreciating much in Man U reserves." @80s_tom
"Pain. He'd be so so good." @razorschar
"Definite conspiracy this." @son_of_sniglet
"Not saying this would be a bad move, but with Matty coming back from his loan, I'd willingly put money on his training performance exceeding Howe's expectations, surely pushing him further toward the starting 11. Especially under Howe's playing style. #nufc #TransferWindow." @JoePSlater
It's a major blow to both the player and Newcastle United themselves. Not only are the Magpies missing out on a midfield upgrade, but the Dutchman's miserable spell at Manchester United goes on.
He came with a huge reputation to Old Trafford, but has struggled to make any impact. Under the previous regime he was ostracised from the first team, getting barely any minutes, something that has continued with a change in manager.
He has played just 67 minutes of Premier League football all season, and that's bound to be frustrating, especially if your former agent is blocking a move when you're desperate for playing time.
In other news, Newcastle fans buzz over Aubameyang update