Tottenham Hotspur fans on Twitter have been sharing their criticism for Lilywhites goalkeeper Hugo Lloris and his display during the north London club's Premier League match against Manchester City. 
After falling to a 5-4 defeat away at Everton in the FA Cup, Jose Mourinho's side took on Pep Guardiola's side in their latest league fixture.
During the game, Lloris' performance, in particular, caught the attention of a lot of Spurs fans who were not shy in sharing their thoughts and opinions on the Frenchman and his latest display in a Tottenham shirt.
The 34-year-old was clearly at fault for two of City's three goals at the Etihad Stadium.
So, what did these Spurs fans have to say in regards to Lloris' performance against City?
"Absolute abysmal goalkeeping AGAIN from Lloris….Not good enough!! #THFC" 
"Lloris has had individual errors in him for the last few yrs. He started to find form, and also save pens, when Jose came. I thought he had got over the bad form….i guess not. Time to find a new Goalie…" 
"Lloris out" 
"I respect everything Lloris has done for the club but he's declining we can all see that he needs to be replaced in the summer because he's a liability." 
"Has Lloris actually got any hands in his gloves? #COYS #THFC" 
"WE NEED A NEW KEEPER!! Loris is done. #thfc" 
"My word Lloris is a criminal"
"Strip lloris of the captaincy ASAP. Sets a bad example to everyone making mistakes week in week out. Hope Poch takes him to Paris this summer #THFC"
"Lloris is a joke!! Time for him to go now, he needs a new challenge, and we need a new keeper!! #THFC #COYS"
"Oh Dear Hugo Lloris sort your hands out man two easy saves ! Time to go"
Looking at this group of tweets from these Spurs fans, it's clear to see that they were not happy with what they saw from Lloris, who is currently valued at £10.8 million and thought to be on a whopping £100k-per-week, during the game against City.
Only one other Spurs player recorded worse than his 6.1 rating on SofaScore.
Do you think Lloris' time at Spurs is coming to an end?
Yes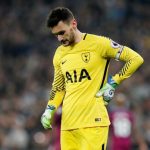 No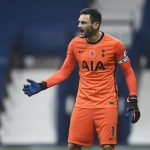 Given how the shot-stopper has been recently linked with a move to French club Paris Saint-Germain, perhaps this performance from him against City could persuade the club to move him on.