Many Newcastle United fans have been fuming at a comment from Steve Bruce that recently emerged on social media.
Journalist Ciaran Kelly recently tweeted out a comment from Bruce as the Newcastle boss talked about who will be taking over DeAndre Yedlin's spot in the Magpies squad for the rest of the season, following the American's deadline day switch to Galatasaray.
Was Bruce's comment about Saivet disrespectful?
Yes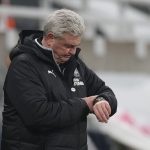 No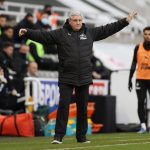 Bruce explained his reasons for selecting winger Christian Atsu to take his place by saying: "Well, there's only him or Henri Saivet to choose from so it was pretty straightforward."
This tweet from Kelly caught the attention of multiple Newcastle fans, who gave their views about Bruce.
What did Newcastle fans make of this comment from Bruce?
"That is one of the least professional statements any manager has given. How can you say that about a player at your club?!"
Credit: @megamarvatron
"If that's how he can publically destroy a players confidence with ease then its worrying the damage hes causing behind the scenes. No need to say that what so ever. Nice bloke tho our steve FRAUD."
Credit: @steveo_NE
"As long as he's here we'll continue to go backwards, he's clueless at best."
Credit: @ericsaddler2
"Wow, how disrespectful."
Credit: @leerobson23
In the Premier League, Bruce's Newcastle currently find themselves in 16th place and they are only eight points away from the relegation spot. They are nine points away from 10th-placed Arsenal as they head into their clash with Southampton this weekend (as per BBC Sport).
The Magpies have been criticised for their defensive mentality in games this season under Bruce. There have also been suggestions that the club's fans aren't going to be happy with that sort of approach.
"Shocking man-management from a shocking manager."
Credit: @paulwallsend
"This is so disrespectful. Surely this didn't come from Steve "nice guy" Bruce."
Credit: @adamswest_
"That's absolutely disgusting saying something like that."
Credit: @GlennMCcready
A lot of Newcastle fans believe that Bruce's comments are disrespectful to Saivet after describing the choice to be 'straightforward' for him.
Fans were equally dismayed when Newcastle's official Twitter account had merely revealed via Bruce that it would be Atsu coming into this squad – so it appears that Bruce revealing the thinking behind his decision has only exacerbated fans' pre-existing anger and rubbed salt into the wounds.
Bruce has previously publicly slated his own players when the team hasn't got the desired results. Considering his past comments, their current league position and the recent comment on Saivet, it is easy to understand why fans wouldn't be happy with their club's manager.