A lot of Newcastle United fans have responded to a tweet from @FootballMuseum that included a picture of an old Toon shirt, with Newcastle Brown Ale as the sponsor and Adidas as the manufacturer.
The tweet included a link to a poll for the G.O.A.T. strip, and this Newcastle strip was up against the likes of a France kit from 2011-12, a Brazil 1971-74 kit, and a Manchester United 1993-95 kit.
However, the Toon appear to be running away with it, taking nearly 60% of the votes at the time of writing, and this image has got these Toon fans drooling.
Is this Newcastle's best home kit?
Yes, by miles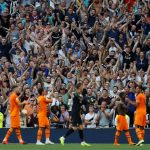 No, I like it but others were better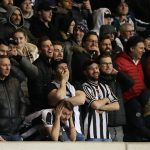 Howay @NUFC fans – second place at the moment…https://t.co/KtkDaXlvsu https://t.co/qGu2FNwRqR pic.twitter.com/r0fKFzuS2i

— Nat. Football Museum (@FootballMuseum) May 13, 2020
My favourite ??

— David (@GreenGeordie9) May 13, 2020
This one has always been my favourite

— Tyneside Mag (@MagTyneside) May 13, 2020
That's my favourite one ?????

— Jack Mac,? (@GlennMCcready) May 13, 2020
Second? Streets ahead of any other, ever.

— Jamie Fender (@Jamie_NUFC) May 13, 2020
The best strip in years!!

— KK (@Keeeeegurrnnnnn) May 13, 2020
Sheer class. Should be relaunched if #cans ever happens

— Captain Sensible (@CaptainSensibl8) May 13, 2020
I own 4 of these.

— Lee C? (@CivvyWAFU) May 13, 2020
What do we think?
This Newcastle strip from 1995-97 is a true classic, and it may be no surprise to see it winning the poll comfortably for Toon fans.
The kit represents good times for Newcastle as they finished second in the Premier League in both the 1995-96 season and 1996-97 season.
It seems that many Newcastle fans love this kit, and this image has made them realise how much they adore it.