Some Everton fans have been reacting positively to a recent post from Everton-focused Twitter account @ToffeeTVEFC, which shares some amusing footage of Toffees midfielder Andre Gomes "channelling his inner Tom Hanks".
This tweet shares footage of Gomes humorously speaking to a football, that he calls "Wilson", in all likelihood referencing the film 'Cast Away', which features Tom Hanks playing a character called Chuck Noland who notably "paints a face on a volleyball and names it Wilson", as described by film critic Roger Ebert. 
This footage may provide us with an insight into one of the ways that Everton's £25.2m-vauled midfielder may be keeping himself entertained during his time away from football, following the postponement of "the professional game in England" which was announced on Friday the 13th of March on premierleague.com. 
Some Toffees supporters have been reacting positively to this footage featuring Gomes that was recently shared on social media. Read the reactions of some Everton fans to this footage in the tweets below. 
Does this footage convince you that Andre Gomes has a future in Hollywood?
YES, GOMES IS THE NEXT TOM HANKS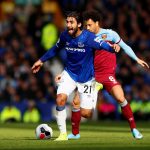 HOPE HE STICKS TO FOOTBALL FOR NOW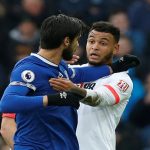 André Gomes channeling his inner Tom Hanks and acting out his own version of the movie Castaway.

He would make a great actor! ??? #efc
pic.twitter.com/Wspi0Ir1aQ

— Toffee TV (@ToffeeTVEFC) March 18, 2020
Yes! What a guy

— Paul Albertsen (@AlbertsenPaul) March 18, 2020
Top man.

— vince barrow (@vincebarrow) March 18, 2020
??????

— Marie Rimmer (@MarieNSNO) March 18, 2020
Oh heck !!

— Susan (@Susan96464760) March 19, 2020
Nobody could look like that and not have Hollywood dreams

— Conor Joseph (@skellasaurus10) March 18, 2020
Andre Gomes going insane is exactly what we all need right now. ?

— teadrinker68 (@teadrinker68) March 18, 2020
What do we think?
The postponement of professional football in England may be particularly exasperating for Gomes, who had only recently returned from "a horrific ankle injury" which forced him to miss "112 days" of action this season. 
The Portuguese international made his return to Premier League action following his injury on the 23rd of February. Gomes had managed to feature in just three Premier League games for the Toffees since his return from injury in February before professional football was postponed in England on the 13th of March. 
Considering that he had already missed "112 days" of football due to injury this season, it may be understandable why Gomes has felt the need to film some comedic videos to keep himself entertained during the current absence of professional football.