Some Celtic fans have made their opinions known about the latest transfer update involving their striker Odsonne Edouard in the ongoing January window.
French outlet Get French Football News recently reported that AS Monaco have made an approach to sign Edouard, but the Hoops have rejected the offer. The report goes onto state that Celtic have no intention of selling the former Paris Saint-Germain man this month.
Would Monaco be a step-down for Edouard?
They're a small club!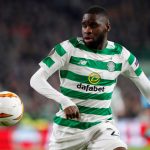 No, they're bigger than us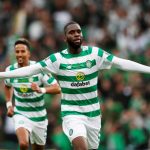 They also claim that Borussia Dortmund are also interested in the striker while saying that Monaco were close to signing Edouard in the summer of 2019.
The GFFN Twitter handle posted the news on social media. Many Hoops fans took to it and made their opinions known about it.
What good is money to us when we will get a £2 million project from Iceland as his replacement

— chivs (@CHIVS105) January 26, 2020
They'd need to table a silly bid as Celtic don't need to money nor would they consider jeopardising their season for cash now.

— ????????? (@EtienneBojan) January 26, 2020
This isn't happening in January it makes no sense to Celtic PLC or the Celtic team on the park. It's inevitable he'll go so a wee round of pre-sale hype in Jan is good for business in the summer. Hypes up the interest & price. PL will be in line for another blockbuster bonus

— tiffer67 (@tiffer67) January 26, 2020
Lets hope eddie wants to be here to fight for 9 and if that happens then 10 . Would love him to stay but he will have the fans blessing then if he choses to leave. All if's though eh

— bono's da 10 (@bonos_da) January 26, 2020
I can't see him leaving for a mid table French team. I know he is French so maybe that would be a bonus for him but they literally have zero chance of getting any kind of European football next season at all. I can say with confidence that Monaco would be a drop down for him.

— Jock (@Jocksbhoys) January 26, 2020
Unless they are willing to spend 30m+, it won't be Monaco he goes to.

— TheJungle1888 (@BabyBoo4444444) January 27, 2020
Why would he want to go to Monaco even if they offered 50 million. They are brutal. Surely he would be thinking of going to a top 6 English team or a top 3 French team

— declan kavanagh (@declan1888) January 26, 2020
And the Week of Hell begins

— Electronic Tims (@ETimsNet) January 26, 2020
Celtic signed Edouard on a permanent basis in the summer of 2018 for a club-record fee of £9million. He had spent the 2017-18 campaign on loan at the club, sharing the dressing room with Moussa Dembele.
This season, the Frenchman has been in impressive form for the Hoops. He has made 34 appearances in all competitions, scoring 19 times and racking up 15 assists on the way. In the Premiership, the striker has scored 15 times in 19 games for the club.
This is already an improvement on last season in terms of contributions goal, as Edouard had scored 22 times and had picked up eight assists in the previous campaign.
What do we think?
Celtic can't afford to lose Edouard in this month, considering they will have only four days to sort out a replacement. They can sell him in the summer and have enough time to replace him with an able striker.