TalkSport pundit Simon Jordan has shared his thoughts on the possibility of seeing Tottenham Hotspur replace Antonio Conte with former manager Mauricio Pochettino. 
The Argentinian has been linked with a potential return to Spurs following doubts over Conte's future at the north London club.
However, Jordan doesn't think bringing in their former manager would be a suitable move for the Lilywhites to make.
Speaking on TalkSport, Jordan had this to say when asked if it would look desperate if Spurs were to appoint Pochettino as a potential replacement for Conte:
"It would look like they're devoid of an alternate solution. But it also means that, maybe, people have had time to think, things have distilled, you've decanted the relationship they had with Pochettino, you've looked around, you've kissed a couple of frogs in Conte and [Jose] Mourinho that look like princes, and maybe you recognise that Pochettino was the right fit in the first place. Sometimes you go away to come back.
"I don't know if that's the case, but the same personalities are there, the same circumstances are there. Daniel [Levy] hasn't suddenly had a personality transplant. He's the same person that Mauricio Pochettino found himself getting booted out the door from.
"If Pochettino is in the mix – and it's a massive assumption, it's a reach to see that as the case, but let's make that assumption – will he bring Tottenham any more [success], because the moment he doesn't, Daniel Levy won't be able to do right for doing wrong; [if he] brings Pochettino back in, the team gets knocked out in a game that people think they shouldn't do, it'll be Daniel Levy's fault.
"Pochettino, for me, is a circle that Tottenham I don't think should square again. I'm not sure it's right to go back to him."
Would you like to see Mauricio Pochettino return to Spurs?
Yes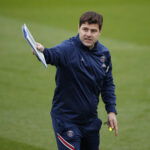 No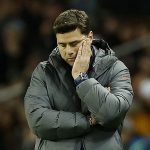 During his time in charge of the Lilywhites, the 51-year-old won 160 of the 293 games he overlooked with the club across all competitions.
With some Spurs fans singing Pochettino's name after seeing their side get knocked out of the Champions League in midweek, this shows how much they still love their former manager and would like to see him return to the club.
Also, with the former Paris Saint-Germain manager previously sharing his ambition to return to the Premier League, perhaps this could give Levy the chance to give the supporters what they want and get the Argentinian back in the dugout at Spurs should Conte end up leaving.