Injured Aston Villa defender Diego Carlos could be set to return as soon as January, according to trusted medical expert Ben Dinnery. 
The centre-back ruptured his Achilles tendon back in August having only just arrived from Sevilla in a £26m transfer earlier that summer. At the time, it was reported that he would be out for a 'minimum of six months' (via Sky Sports).
That naturally came as a big blow for Aston Villa and they have subsequently struggled without the defender. For instance, by October manager Steven Gerrard had been sacked.
However, it what could be a major boost for the Premier League side, it seems as though there is a chance that Carlos could return to action relatively soon.
Indeed, in an interview with Football Insider, Dinnery explained: "Is it possible for him to be back in January? Yes, it is.
"We have numerous examples of players returning from a ruptured Achilles within that four to five month period but they tend to be the exception rather than the norm.
"It depends on the location of the injury and the size and type of tear. They are all fairly unique. Early 2023 is possible and if we are looking at something under five months then there are inherent risks associated with that.
"They've got a great team at Aston Villa. There will be activity-based protocols in place. Carlos will have to tick a lot of boxes on that return-to-play strategy. It's important to recognise that with the length of absence and type of injury, a return to play is not necessarily a return to performance, even a return to train is not a return to play.
"They are serious setbacks and serious injuries and you can feel the ramifications for a while. It's also about the profile of the player. Carlos is a ball-playing centre-back but the expectation is that he won't be making those lung-bursting runs and those five-yard sprints.
"His approach to the game is a lot more conservative so the transition from training to playing and performing may be a lot quicker. Once you're hitting that 30-plus age then we know the powers of recovery are gradually in decline.
"You just don't have that elasticity in your muscles and everything seems to take that little bit longer. You feel a few more aches and pains and you are not bouncing back as quickly as you were."
TIF thoughts on Diego Carlos and Aston Villa…
Seeing as Carlos was tipped to miss at least six months of action when he picked up the injury back in mid-August, it certainly would be a shock if he played for Villa in January – which would mean only about five months out.
Still, it seems likely that the club will be doing all they can to get him back. After all, they spent big money on the defender during the summer and he was trusted immediately.
Indeed, Carlos played the full 90 minutes in each of the Villans' first to league games of the season. What's more, new boss Unai Emery should know him well, seeing as both have spent recent seasons in La Liga.
Indeed, the centre-back was at Sevilla since 2019 before his move, and the Spanish manager was in charge of Villarreal since 2020.
Do you think Diego Carlos will become Villa's best defender?
Yes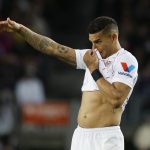 No