Journalist Luke Edwards believes that West Ham United may now look to shift their focus to the Europa Conference League amid their Premier League woes.
The Hammers have been brought crashing back down to earth this season, sitting just two points above the bottom three having been used to competing for Europe over the last few campaigns. However, they are currently thriving in the Europa Conference League, winning all of their group games.
Therefore, with a finish inside the top six looking more and more unlikely this season, Edwards has claimed on The Football Daily podcast that West Ham and Moyes may soon shift their focus to the Europa Conference League and try to win some silverware.
He said: "Probably for West Ham fans, if you said to them – and it's all if, buts and maybes – but if you said they could win a trophy this season and finish 10th/11th, every single one of them would say win the trophy.
Could West Ham win Europa Conference League?
Yes!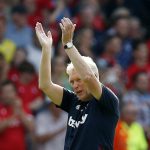 No!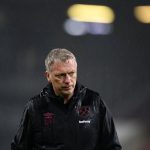 "So what you might see is a slight shift in the alignment of priorities for West Ham this season, where they might really go after the Conference League, which is wide open – and they're more than capable of winning it if you look at the teams that are in it."
TIF Thoughts on West Ham's priorities…
It's quite a sensible shout from Edwards to claim West Ham may well focus more on the Conference League as they are miles off the top six, but if they can win the European competition, it would allow them an automatic spot in the Europa League next season.
However, if the Hammers continue to struggle as they are right now in the Premier League, the pressure will crank up on Moyes no matter what he manages to do in Europe, as he can't just discount the league in November.
Therefore, it's a very fine balancing act that Moyes has on his hands to ensure the league form improves to get West Ham away from the bottom three, but also make sure he doesn't waste this chance in the Conference League.