According to journalist Joshua Barrie, Rangers need to start a discussion over the use of their signings as none of their summer additions were used in their recent Champions League defeat. 
The Gers lost their third game in a row on Wednesday evening after shipping three goals in their Champions League game, where they conceded 11 goals and failed to score one in return.
They were unlucky during their most recent defeat to Napoli as they conceded two penalties, with one being retaken due to an encroachment during the run-in. They looked to be in the game until five minutes from the end when Napoli doubled their lead and then added a third during injury time.
While manager Giovanni van Bronckhorst claimed the scoreline did not reflect the result, Barrie called into question his squad selection and specifically called upon the Rangers brass to discuss why their summer signings were not utilised.
Barrie said on the Rangers Review podcast, "But I think there's a wider discussion obviously to be hard about the fact that you know, there are no new signings in that team. As a one-off occasion that's fine and, Rangers had that grit and determination and, and whatnot.
"But when you're looking further down the line, I think there is some concerns there. You look at obviously the recruitment of the summer and we touched on this in the pre-match video.
"The fact that the manager again was asked about Ben Davies in his post-match, but the fact you've got Lundstram there, your best midfielder playing in defence, so there's wider stuff to be talked about." (2:50)
TIF Thoughts on Barrie's comments…
The Scottish giants have struggled so far this summer with a gap building in the Scottish Premier League between them and bitter rivals Celtic. Considering this and their poor UCL form, it is hard to see why Van Bronckhorst is not giving their new signings a chance.
Former Liverpool starlet Ben Davies has only made one appearance in the SPL for the Gers for 78 total minutes and Ridvan Yilmaz has only made three appearances across all competitions. While Rabbi Matondo and Antonio Colak have made more appearances this season, they only saw 17 and 18 minutes on the pitch during the Napoli game.
Rangers need a boost if they are to challenge Celtic and make a good account of themselves in Europe this season, it is evident their current starters are not getting the job done. Van Bronckhorst needs to give his new signings a chance to bed in and show what they can do, if he leaves it too late, it could end up costing him the job.
Will GvB lose his job this season?
Yes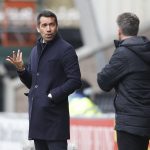 No