Tottenham Hotspur have AS Roma midfielder Nicolo Zaniolo on their radar this summer, with Fabio Paratici recently holding talks over a potential deal.
This has been suggested by journalist Sean Walsh, who has been discussing the north London club's plans for the remainder of the window on the Talking Transfers podcast.
There have been reports suggesting Spurs could be in the market for Leicester City's James Maddison this summer, with the Lilywhites said to have contacted his representatives.
However, there have also been strong suggestions that Paratici could turn his attention back to the Italian market by raiding Jose Mourinho's side of their 23-year-old midfielder.
Walsh said: "This is a player really admired by Antonio Conte and Spurs' director of football, Fabio Paratici. Paratici has spoken to Roma's general manager, Tiago Pinto, in recent days about the possibility of a transfer.
"They've been talking for, I think, over a month now about a potential deal. Roma are adamant that they won't sell for less than €50m."
TIF Thoughts on Walsh's comments…
The creative playmaker vacancy at Spurs is a really interesting one given Antonio Conte does not typically play with a formation that would incorporate that style of player.
Who would you prefer at Spurs?
Nicolo Zaniolo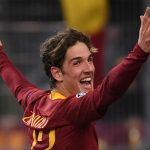 James Maddison
However, Conte has previously alluded to wanting to bring in that type of player this summer to allow Harry Kane to focus more on finding the back of the net.
With Zaniolo valued at just over £41m and Maddison in the region of £60m, we will be interested to see which one Spurs pursue in the final weeks of the summer – if either.