Dean Jones has suggested a reason as to why Manchester United should be hopeful over their pursuit of Frenkie de Jong while speaking on The Done Deal Show.
It's safe to say that the potential deal that would see De Jong join Man United has now become the transfer saga of the summer, with the Red Devils having already agreed a fee with his current club, only for the player to slam the brakes on a move.
The midfielder is said to be very much against a switch to Man United this summer, which could be largely down to the amount of money he's still owed by Barcelona and that his manager Xavi still sees him as part of his side if the finances will allow it.
However, that appeared to be contradicted the other day when De Jong was deployed as a centre-back – something that will help man United in their pursuit of the Dutchman, according to Jones.
Will Man United sign De Jong?
Yes!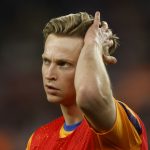 No!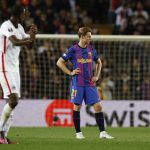 He said: "There are so many reasons for Man United not to give up on this deal. He's such a good player on top of the fact they still believe there's hope. He played centre-back at the weekend – another reason for Man United to have hope that he doesn't actually fit into what Barcelona are doing – and there's nobody on the backup list that is quite as good as him."
TIF Thoughts on this pursuit of De Jong…
It's a difficult situation that Man United find themselves in as they are now less than two weeks away from the opening game of the season, and as things stand, it appears unlikely De Jong will be turning up at Old Trafford before then, however, they've spent so long pursuing the midfielder, so why would they stop now?
This will be a test as to how far the Man United board are willing to go when backing their manager, as De Jong is clearly someone that he desperately wants to help his revolution, but there will have to come a time when enough is enough and other targets have to be drafted up.