Arsenal journalist Charles Watts has given his thoughts on Eddie Nketiah and his future at the club ahead of the January transfer window.
The 22-year-old has certainly found playing time hard to come by in recent seasons, making just 72 appearances for the Gunners since his debut in 2017, with just 38 minutes to his name in the league this season.
And that might be all the playing time he is set to get at the club, as recent reports suggest that Nketiah has turned down the latest contract offers from the club as they look to keep hold of him beyond his current deal that is set to expire at the end of the season.
Speaking during a Q&A session on his YouTube show, Watts discussed what he thought might happen with Nketiah as the January transfer window approached, noting that Arsenal might be somewhat conflicted when it came to what they want to do with him against what they might be forced to do.
He said: "I think Nketiah, there is a possibility that will happen [leave the club in January].
"I think Arsenal wouldn't really want it to happen, but given what's happened with the contract, given the fact he's repeatedly turned down offers from Arsenal to stay, if a really decent bid came in for Nketiah in January, then Arsenal might look to do that, especially if it looks like they might be missing out altogether on compensation at the end of the season."
TIF Thoughts on Charles Watts' comments about Eddie Nketiah and Arsenal…
Do you think Arsenal will sell Nketiah in January?
Yes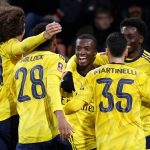 No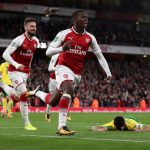 We think Watts is right here when it comes to how Arsenal might approach things. Not only would letting Nketiah go leave them rather thin at the position, especially if Alexandre Lacazette gets his wish and is allowed to leave the club as well, but the uncertainty over the forward position at present could also leave a potential pathway for Nketiah at the Emirates Stadium.
So whilst not the most important member of the team – at least based on how little he has been used this season – they could still need him in case of emergency.
But whilst Nketiah may not bring in a lot when it comes to his value, both because of the length remaining on his contract as well as his apparent lack of importance to Arsenal, we think the club should still consider selling him if an offer comes along, as Watts hints at.
At least that money, even if it's relatively small, could be used to bring in someone who could make an impact for them not just for the rest of this season, but potentially beyond that as well.
In other news: 'Maybe' – £135m-rated star tipped as potential massive Arsenal target