Former Everton defender Michael Ball can see the pairing of Yerry Mina and Ben Godfrey playing more often at Everton.  
Godfrey didn't feature in the Toffees' opening three Premier League matches and also the second round Carabao Cup match against Huddersfield Town but has since come in to play the next four matches, starting two as a centre-back and two as a right-back.
Mina played seven minutes of Everton's opening Premier League fixture against Southampton but has since gone on to complete 90 minutes on four occasions, missing only the Brighton match in the Premier League.
Who do you think is Everton's best centre-back?
Yerry Mina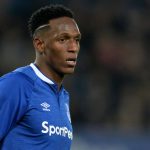 Ben Godfrey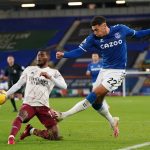 Mason Holgate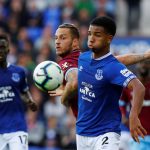 Ball believes that both Godfrey and Mina is a pairing he can see happening more often, telling This is Futbol: "I feel for Rafa because the players haven't been fully fit for him, he's had to mess around with the squad and he's tinkering trying to find the best way to win a football match and as we know the Burnley game didn't work, he changed it to a four, Michael Keane scored and we could see the different player but to me the best two defenders are Mina and Godfrey.
"Whether they can work together you know, only time will tell but Michael Keane has been great going forward for us, you know set pieces wise he's scoring goals, he did it last season, he's a danger but they are there for defending and I think our two main defenders is Mina and Godfrey, I think that's a pairing I could probably see happening more often."
Benitez has played Keane in all of the club's opening six Premier League matches, with the 28-year-old also featuring in the Carabao Cup for the Toffees this season as he started the Huddersfield match and came on as a substitute against Queens Park Rangers.
The Everton manager played Keane and Mina, valued at £40m combined by Transfermarkt, at the heart of his defence against Norwich City with Godfrey playing right fullback and so, this offers Benitez versatility in his defence.
Related posts