Celtic fans have been reacting to comments made by Leigh Griffiths about his future at the club.
The 30-year-old is in limbo at the moment when it comes to his career at Celtic Park, with the club yet to trigger an option on his current deal and keep him at the club for an additional season as he faces the prospect of leaving on a free transfer this summer.
All this has been going on whilst the club have been in the process of appointing new manager Ange Postecoglou, who will likely have a say on the matter as he looks to put his team together for the new season.
Speaking to Sky Sports, Griffiths confirmed that he and the new boss had talked about his future, and that things were looking 'positive' in his eyes:
"I spoke to the manager Tuesday morning and things seemed positive. We'll have another chat at the beginning of next week when he's out of isolation and then we'll take it from there.
"It was a massive thing for him just to give me a phone. He didn't have to, but he took time out of his day to give me a phone and gave me his ideas and his plans moving forward. It was a positive chat. When he's back out of isolation we'll have a chat face-to-face and see where we're at."
His comments were relayed to fans on the Celtic Insider Facebook page, where the positivity appeared to continue as many fans hoped that an extension was on its way:







Is Griffiths' time up at Celtic?
Yes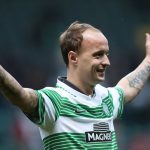 No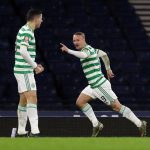 Hopefully he'll be able to recreate some of the form from his earlier days at the club if he does sign, because they're going to need it if they hope to overturn the massive deficit to Rangers from last year.
In other news: Podcaster claims 'Celtic would jump' if offer came in for player that has 'kind of regressed'