Dave Prentice has been speaking on the latest edition of the Liverpool Echo's Royal Blue podcast about Carlo Ancelotti leaving the club and what it could mean for Marcel Brands.
The Dutchman arrived at Goodison Park in 2018 as director of football and favours buying younger players.
However, while Ancelotti was at the club, the Toffees signed older, more established players.
This included the likes of James Rodriguez and Allan.
So, Pentice wonders if a new combination between a young manager and Brands could work for the Toffees and allow Brands to show people why Everton brought him to the club.
He said: (37:12) "Marcel hasn't really been given the opportunity to work as a director of football so far in his tenure at Everton.
"I mean, Marco Silva was effectively foisted upon him, Sam Allardyce was an emergency appointment, and Carlo Ancelotti [wanted] to do things his own way, against the strategy that Marcel Brands had introduced.
"So this could be an opportunity to maybe allow Marcel [to] do his job fully alongside a manager, like maybe Potter, or like Duncan [Ferguson].
"Somebody that has [not got] the experience that other managers have but that passion and that drive and that desire."
Do you think that Brands will do better now that Ancelotti is gone?
Yes, that is possible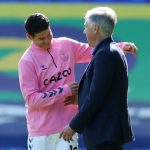 No, he will be worse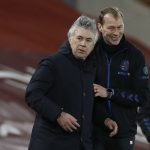 TIF Thoughts on Brands and a young manager…
Given that the transfer window opens on the ninth of June, the Toffees don't have long to get a new manager in place and begin buying players, but you would hope that Brands has a list of targets and is ready to go no matter who the manager is.
This suggestion by Prentice is interesting, and it would allow Brands to do the job he was brought into to do but could someone like Duncan Ferguson or Graham Potter handle Everton?
It remains to be seen what direction the Toffees go in for their new boss, but it could bring out the best in Brands if they did go for a younger or smaller profile manager that allowed him to bring in the players he wants.
In other news: 'Apparently, he's told people' – Journalist drops big claim on potential Everton boss