Transfer insider Dean Jones has shared a couple of names that Crystal Palace are looking at to replace Roy Hodgson.
The 74-year-old's contract runs out at the end of this season, and although he has said he is not considering the next step in his future, that doesn't mean that those in charge haven't already got their eyes on who could be the man to take charge if Hodgson does decide to retire.
And speaking on the latest edition of Touchline Talk (17:42), Jones claims that there are five men on the list when it comes to replacing him, a list which contains two very prominent names within Premier League circles:
"As I understand it, there are five men on their list that they would want as their next manager. I don't know all five of those men, but I know that two of them are Eddie Howe and Sean Dyche. They are two men that fit what they are looking for going forward. I think obviously, Eddie Howe's linked with every vacant job at the moment anyway, Sean Dyche, I'm not sure they would get out of there.
But that's kind of what they want. They want this reliable, preferably British guy to come in and kind of carry on what Roy Hodgson was built in terms of principles of the football club."
Do you want to see Roy Hodgson leave the club at the end of this season?
Yes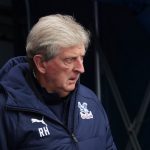 No
TIF Thoughts on Dean Jones' comments about Crystal Palace's next manager
If the names that Jones dropped are true, then they come across as pretty uninspiring, because they don't come across as the type to take a club like Crystal Palace all that far forward.
If you look at where Dyche and Howe have taken their respective teams, with the exception of one season where Burnley qualified for Europe, they were predominantly mid-table to lower half of the table teams, which is roughly what Crystal Palace are now.
So bringing in someone in this mould, doesn't come across as much of a change of pace other than the fact they'd be much younger. If they want to progress as a club, then they have to be more drastic than that, even if they have to endure some struggles like when they appointed Frank De Boer in the meantime.
Otherwise it's a case of 'same old same old'.