Leeds United fans have been reacting to news regarding some members of the first team ahead of their game with Aston Villa this weekend.
Speaking in his press conference today (via @PhilHay_), Marcelo Bielsa gave fans an update on a number of players including Mateusz Klich, Kalvin Phillips and Rodrigo. There wasn't much positivity to come out of it, with the best news perhaps being that Klich is 'doing okay so has a chance' and going on to state that the calf injury that Phillips is going through could get worse if they mismanage it, so they are being incredibly cautious with it.
With Leeds looking as though they are set to finish comfortably mid-table this season, the game doesn't really have a lot riding on it from their perspective, but that still didn't stop a number of Leeds fans from expressing their concern, with Phillips' injury causing the most grief amongst them:
"Kalvin Phillips' absence makes me feel uneasy"
"Didn't realise Phillips' injury was that bad or that he'd miss so many games with it!"
"I hate this game"
"Thanks a lot Phil! Now my dogs crying!"
"> be cautious with Phillips because injury could get worse
> Keep him on the pitch another 15 mins after he gets the injury
Solid logic"
"It's sort of nice that we can be cautious. 15 points less and it's a case of he's that important they might have risked him. All about him being back when he's ready, physically and emotionally."
Would you like to see Kalvin Phillips named Leeds captain in the future?
Yes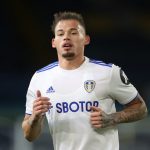 No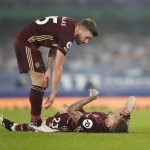 Better to be safe than sorry by the sounds of it.