Many Tottenham Hotspur fans have been talking about the latest update about Erik Lamela that recently emerged on social media.
Romano appeared on an episode of the Last Word on Spurs podcast (31:59) and talked about Lamela's situation at the London-based club. The Italian journalist revealed that Lamela could leave Spurs in the summer transfer window and he would love to go back to Italy, where he was at Roma before. He revealed that while at the moment, no clubs in Italy are looking for a winger, the Argentine will probably leave Spurs next summer.
Should Spurs sell Lamela in the summer?
Yes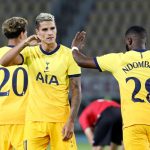 No
The update about Lamela was relayed on Twitter by The Spurs Express and many Tottenham fans talked about this news.
What did Spurs fans make of this news about Erik Lamela?
"Be a good move for him, I love him when fit, but he can never stay fit for more than what 3 months at a time?"
Credit: @MoCap786
"I'll drive him to the airport in a heartbeat."
Credit: @SufianMutalib
"Please be true. Stolen a wage off is for far too long."
Credit: @stuartlolljee
"Wish it was this month instead."
Credit: @SV555_
"I've been wanting this to happen for 5 years.. maybe more"
Credit: @GavHolmes
Lamela joined Spurs from Roma in the summer of 2013, but the Argentine has made 235 appearances in all competitions for the club since then. He has scored 35 goals, picking up 46 assists for the club as well (as per Transfermarkt). He is currently valued at £14.40m.
Having said that, the winger missed quite a few games due to injury in his Spurs career and even this season, he has been plagued by injuries under Jose Mourinho.
"Why not just return now."
Credit: @itskamran7