Some Sheffield Wednesday fans have been mocking and fuming at one of the club's posts during their 1-0 loss to Luton Town in midweek.
A first-half goal from James Collins proved enough for the Hatters to pick up all three points, as Wednesday failed to record what would have been their first win in the Championship since they beat Leeds United in January.
Who is to blame for the mess at Wednesday?
Monk all along Its on the players!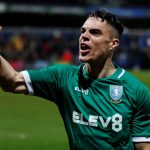 Towards the end of the game, the Owls' Twitter account posted an update about how much stoppage time was to be added on. This left many Wednesday fans pleading for the game to end soon. Some were pessimistic over anything happening despite the added time.
Just blow your whistle

— daniel barrass (@danielbarrass2) February 12, 2020
You could add 3 full games on and we still wouldn't score

— P3A53Y (@pease2011) February 12, 2020
Could play till Friday and still not score. Embarrassing. Sort it out.

— Matthew (@matthewtups) February 12, 2020
Could play another 45 & get nowt

— Matt Boulby (@Mrmboulby1) February 12, 2020
5 minutes more agony.

— Daryl Slinn (@darylslinn) February 12, 2020
An added minute of silence would have been more fitting for that performance…

— Andy Wilson (@a8drewson) February 12, 2020
Their could be 30 added
Minutes and we wouldn't score

— Jamie SWFC Bradshaw (@Jamieb83SWFC) February 12, 2020
What a complete load of rubbish

— Glenn White SWFC WAWAW (@char1iewhite) February 12, 2020
So far this season, Wednesday have let in a total of 35 goals in the Championship so far. That is the best record outside the top six. They have scored 41 goals in the division, as many goals as Charlton Athletic and Birmingham City.
Steven Fletcher has scored 12 goals for them this season, with Jacob Murphy having scored four goals so far.
What do we think?
Wednesday fans are right to feel sad about their current situation, as the club has won just one out of its last nine league games.