Manchester United midfielder Jesse Lingard has revealed he snubbed the opportunity to join Manchester City and Liverpool prior to signing for their fierce rivals.
The 26-year-old told Manchester United's official podcast (via The Mirror): "It was left down to me to pick a club and I felt United were best suited to me personally. [Manchester] City, Liverpool, Everton and I think Crewe at the time [were interested in me]."
The England midfielder spoke of his love for United from a young age and suggested that had an influence on his decision.
In light of Lingard's claims, it seems the City fans feel as though they dodged a bullet and displayed no regret at their clubs failure to land the player.
And we are forever grateful ???

— katy fitzpatrick ?????????? (@kathy121255) November 26, 2019
Thanks Jesse, you made the right choice. For City.

— Graeme (@kennygraeme63) November 26, 2019
— Dirty Turk (@dario2739) November 26, 2019
Thank the Good lord!!
Bullet dodged there.

— Dave Smith? (@welsh_dave_74) November 26, 2019
Hallelujah!!

— Al Wilkinson (@albowilko) November 26, 2019
Thank goodness

— Helen Fernandez (@fernandez_helen) November 26, 2019
What do we think?
From Lingard's perspective there's an argument he would have developed into a better player under Pep Guardiola – but whether he would have broken through to the City first-team with so many talented players in his way is another debate.
Would Jesse Lingard have made it at Man City?
Yes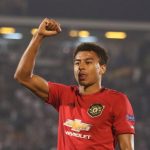 No However, from a City perspective, they have an array of talented players at their disposal and it's no surprise to see their supporters are not particularly bothered by the fact they supposedly missed out on him.
Add to that, he is a self-confessed fan and now a player of their biggest rivals he's certainly not going to be welcomed at the Etihad Stadium anytime soon.