TalkSport pundit Simon Jordan has backed Tottenham Hotspur chairman Daniel Levy for his ambition when it comes to hiring managers at the north London club. 
Since becoming part of the Spurs board back in 2000, the Lilywhites have only won one trophy, which was the League Cup back in 2008.
With numerous fan protests taking place against Levy and the current ownership of the club, current Spurs boss Antonio Conte has revealed that he will be holding talks with the chairman at the end of the season regarding his future amid recent doubts about his current position.
This has now led to Jordan sharing his thoughts about the Spurs chairman and his track record when it comes to hiring managers for the team.
Speaking on TalkSport, Jordan had this to say about Levy and his track record of hiring top managers.
He said: "You can't argue, whatever they say about Levy, and they can say a lot about him, you can't argue that they haven't had ambition on the management side, and the manager's the one that causes you the most problems.
"The players you can sign, you don't have to deal with them. The manager is the guy that causes you problems. If you've got no ambition, why would you bring [Jose] Mourinho in and why would you bring Conte in? Because you know they're going to come with a bag of trouble.
"And then why would you take Mourinho out before a cup final? Maybe because the players weren't happy. Maybe because there was a bigger picture like finishing fourth in the league and that looked in real jeopardy because of what was going on behind the scenes – maybe those things are up for debate.
"The bottom line is that Tottenham should have won something in the time that Daniel's been there besides the League Cup."
Hiring Mourinho back in 2019 after having won three Premier League titles and two Champions Leagues and hiring Conte, who has one Premier League title and one FA Cup to his name among other trophies in Italy shows that Levy has not been reluctant to appoint managers that have winning pedigrees.
Does Daniel Levy deserve credit for appointing Antonio Conte at Spurs?
Yes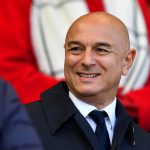 No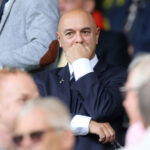 Although, given the lack of trophies in recent years added to the fact that the club have spent a lot of money on players, it's understandable why some supporters may not be totally happy with the infrastructure of the club from Levy downwards.
In regards to why Jordan had to say, if Levy deserves credit for getting Conte through the door, he'll have to make sure he backs the manager with what he needs to make the team become successful.