Mikel Arteta's high-flying Arsenal squad have made continuous progress under the Spaniard, and that progress is now reaping the rewards with the Gunners set to challenge Manchester City for the Premier League title and achieve Champions League qualification for the first time since Arsene Wenger's departure.
The north London side's exit from the Europa League has meant that they only have one thing on their mind: the Premier League title. This vision seemed impossible at the start of the season, yet it is looking a likely outcome now.
The change in direction of the club has come from Arteta and Edu Gaspar's trust in youth that has come through the ranks at their Hale End academy. The Gunners may have a new star rising through, as Amario Cozier-Duberry is impressing at his level.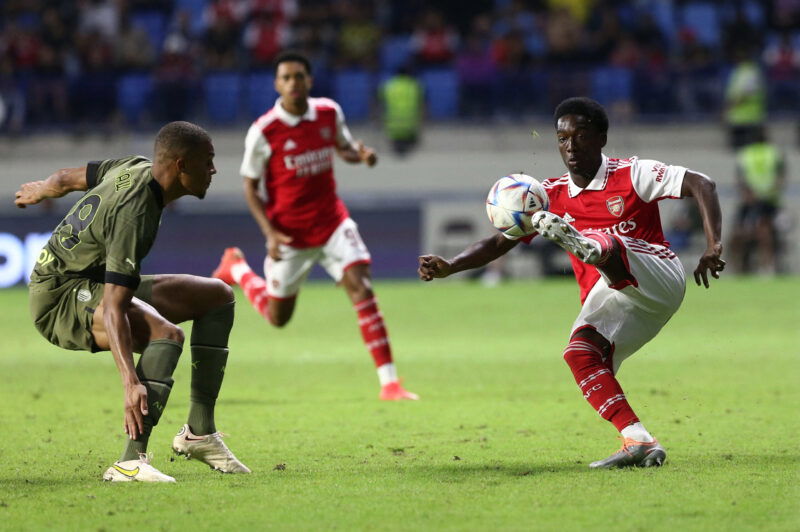 Who is Amario Cozier-Duberry?
The 17-year-old attacking midfielder joined the Gunners aged 14. This season, Cozier-Duberry has made 23 appearances at youth level and has appeared on the first-team bench a handful of times, despite not making his debut as of yet.
His inclusion in the Arsenal squad clearly demonstrates that he is on his way to a Premier League appearance, which may come before the end of the current season. Described as being "a similar player" to Bukayo Saka by journalist Kaya Kaynak, the 17-year-old has been capped by England under-18 on three occasions now.
Speaking to the Arsenal website, Cozier-Duberry showed his passion for the club but demonstrated his level-headedness that he possesses, he said:
"Being at Arsenal is a dream come true, but I know that I'm in a very privileged position, so my mindset is to stay focused and strive to become the next Bukayo Saka, Eddie Nketiah or Emile Smith-Rowe – these are guys I look up to and they're an example that there is a pathway there to the first-team from Hale End."
The London-born gem then went on to speak about playing in the mid-season friendly against Juventus, he said: "Then making my home debut against Juventus was a dream come true. It's something only a few ever get to do for Arsenal and to do it against Juventus, a team with a massive history, is a moment I'll never forget."
Cozier-Duberry's progress is sure to attract the watchful eyes of Arteta, which will be key in the 17-year-old's quest to make his debut. If Arsenal are to wrap up the league with matches to spare, the midfielder would have time to show the Emirates faithful what he can offer.