Pundit Frank McAvennie has suggested that current Tottenham Hotspur chairman Daniel Levy would still want to be a significant part of the club even if they were to appoint new owners. 
Earlier this month, it was reported that Iranian-American billionaire Jahm Najafi is lining up a £3b takeover of Tottenham.
However, with recent reports suggesting that Levy and Joe Lewis are undecided over whether they want to listen to offers for the whole club, sell a minority stake or remain in complete control, this has led to one pundit making a claim on one aspect about what the former would want in terms of his role at Spurs.
Speaking to Football Insider, McAvennie had this to say about Levy and the possibility of an ownership change at the north London club.
He said: "With the new stadium they are talking about £2-3 billion and I can see why people are interested in Tottenham. The stadium is magnificent. All of a sudden they are doing well for a couple of games and people are talking about billions.
"If it was my money I would not go through Daniel Levy because he will still want to be a big part of it whereas new owners might want a clean sweep. If it happens it happens but it will be for £2-3 billion that is for sure."
Having been appointed to the Spurs board all the way back in 2000, Levy has overlooked the development of the Tottenham Hotspurs Stadium, which, following the green light to operate at full capacity once again in the 2021/22 season, the club eventually saw their match receipts rise £104.2m on the previous year to a total of £106.1m.
Do you want Daniel Levy out of Tottenham completely?
Yes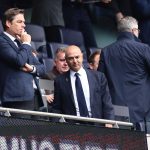 No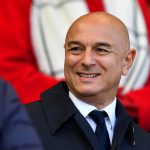 This backs up why McAvennie mentioned the stadium being a big part in why buying Tottenham is an attractive proposition for potential investors or owners such as Najafi.
In regards to McAvennie's point of Levy presumably still wanting to have a big part in the club, the fact that there have been fan protests in the past against him and ENIC, the possibility of him still being involved at the club if there were to be a change of ownership may not satisfy all of the Tottenham supporters.