Manchester City have not been shy when it comes to spending significant amounts of money to bring new players to the club in recent years. 
One player the club spent a considerable transfer fee on that has undeniably become a pivotal figure for the team is Rodri.
Signed from Atletico Madrid back in the 2019 summer transfer window for what was a club-record fee of £62.8m at the time, the midfielder has gone on to make 186 appearances for City across all competitions.
To highlight how important he is for Pep Guardiola's side, the Spaniard has played more minutes in the league this season than any other outfield player at the club.
Looking ahead to the next summer transfer window, should Guardiola feel the need to add some strength and depth to his midfield, one player the Citizens have been linked with recently that we feel would be the ideal partner for Rodri is Declan Rice, with the champions thought to have 'renewed their interest' in the England midfielder.
At the age of 24, Rice has racked up 190 Premier League appearances, which showcases the experience he has as well as the time he still has ahead of him to improve his game and be a long-term figure for City.
In terms of being an ideal midfield partner for Rodri, the duo have showed how similar they are and how well they could work together.
Should City sign Declan Rice?
Yes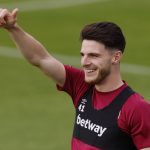 No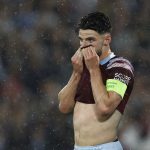 For example, as well as both midfielders topping the list for the highest combined totals of tackles and interceptions at their respective clubs (77 vs 86), they also occupy the top two spots for the number of passes into the final third of the pitch in the Premier League.
However, with the West Ham star eclipsing Rodri on the defensive side of the game by having a higher average of tackles (2.3 vs 2.2) and interceptions per game (1.6 vs 1.2), this potential partnership could allow the City figure to focus on the attacking side of his game – more so knowing the fact that he'll have Rice covering him.
Described as being "dynamic" in his defensive-midfield role by journalist Paul Hayward, the England international could provide a big boost to City's defence and their attacking play given what he's capable of on and off the ball, which should make him a top summer target, in our view.