Journalist Dominic Scurr believes that it is wishful thinking for Bruno Guimaraes to play for Newcastle United in next week's Carabao Cup encounter.
Newcastle fans will have had their hearts in their mouths when Guimaraes went down under a challenge last weekend and failed to emerge for the second half, being replaced by Allan Saint-Maximin.
However, Newcastle have been dealt some huge injury news, with Guimaraes having not torn any ligaments and may only miss one week with his injury, ruling him out of this weekend's clash against Crystal Palace – although question marks still surround his availability for next week.
The Magpies are set to take on Southampton at St Mary's on Tuesday in what will be the first leg of their Carabao Cup semi-final, and Eddie Howe will be sweating over the fitness of Guimaraes heading into that clash.
Scurr was asked if Guimaraes could feature against the Saints next week on the Loaded Mag YouTube channel, but he insisted Howe will want to see him prove his fitness in training first.
He said: "I think that's wishful thinking given how Eddie Howe tends to approach things. He will want Bruno back in training, ideally, before he plays him in the game.
"So, you never know. I think it would be asking a lot, though, given the situation.
"But I thought it was interesting, the tweet Bruno put out today [Tuesday] saying he'll be back faster than ever.
Will Guimaraes play against Southampton?
Yes!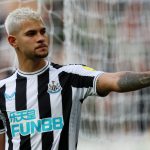 No!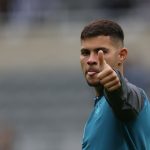 "The scan, fortunately, revealed no sort of ligament damage, so if he had that, that would've been months out, so we're looking at a sprain or a twisted ankle, if you like, and that's a number of weeks, if not sooner.
"So I think the second leg for Southampton's realistic, if not, the West Ham game at the start of February, but if Eddie Howe can get Bruno back in training next week, even if it's just for one day ahead of the Southampton game, then potentially, he could be involved. But like I say, I think that's wishful thinking at this stage.
"But we'll speak to Eddie Howe later in the week and see what the situation is then, because things like this could develop quite quickly and the positive news could become more positive; it can go the other way as well."
TIF Thoughts on Guimaraes' injury…
There is no need to rush Guimaraes back this weekend or for the first leg against Southampton as the Magpies have a home leg to deal with on deadline day, which could be the night they secure their first cup final appearance since 1999.
Therefore, Howe will be keen to ensure Guimaraes rests his ankle for as long as possible before potentially getting a full week of training under his belt before unleashing him into the Carabao Cup semis.
Something that will help Guimaraes' return from injury is his apparent eagerness to return quicker than ever before, as well as the fact that the Magpies don't have a game next weekend after being dumped out of the FA Cup, which will hand the Brazilian even more time to get back to full health.