Tottenham Hotspur chairman Daniel Levy has been warned of potential uproar among the fanbase if Antonio Conte was to walk as a result of a lack of financial backing.
This has been suggested by reliable Spurs journalist Alasdair Gold, who has been speaking on his latest YouTube video about the future of the Italian.
Conte's future is now being questioned once again with the January transfer window now just a number of days away, with a matter of months remaining on the manager's deal.
Spurs fans have already protested about the club's owners and the financial backing of the managers as their search for a trophy nears its 15th anniversary next February.
Although they have not mounted any real charge for a trophy since Conte's arrival, they have certainly shown signs of progression with qualification for the Champions League.
And with reports suggesting Conte could leave if Daniel Levy and Joe Lewis do not provide him with sufficient financial backing, Gold has warned of the backlash that would receive from the Spurs faithful.
He said: "It's an interesting one, because the whole Conte thing is I do think that if there was a sense that Daniel Levy [or] the club weren't backing Conte, there would be an uproar, and I understand that.
"But I guess it's how far he pushes it. Because while I think there's a lot of affection for Conte, a lot of belief that he's a man that can win trophies for Spurs – of course, [there have been] criticisms about the style of football and some of the games that haven't been particularly enjoyable this season – he doesn't want to go too far where he kind of loses some support.
"Because I do think that there will be people that then will nostalgically look back to [Mauricio] Pochettino."
TIF Thoughts on Gold's comments…
We do agree there would likely be uproar if Spurs do not financially back Conte, and rightfully so.
Are you ENIC in or ENIC out?
In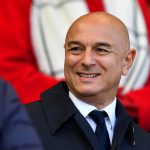 Out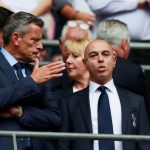 The Italian's record speaks for itself in bringing silverware to the clubs he has managed over the years, and that is something which – despite some good memories – other managers have failed to deliver in N17.
And looking through Conte's record, it is apparent he is also a man who does not typically stick around for years upon years at clubs.
With this in mind, it would be a surprise if Conte was looking for a long-term project at Spurs, and in turn, we would imagine that he will be looking for backing from Levy in the upcoming transfer window.