Footballer and BBC Sportsound pundit Leanne Crichton has slammed the decision to penalise Celtic defender Alexandro Bernabei for an apparent handball in the Hoops' latest league clash.
Ange Postecoglou's side were back in Scottish Premiership action following their midweek mauling by European champions Real Madrid, and had made the perfect start in front of their home fans after Sead Haksabanovic's 6th-minute opener.
However, opponents Dundee United were gifted a way back into the game just minutes later after Bernabei was deemed to have handled in the box, despite Steven Fletcher heading onto his arm from close range.
This led to Motherwell's Crichton giving her view on BBC Sportsound, with the Scotland midfielder leaping to the defence of the Argentinian.
She said (via Football Scotland): "I've just had a look at it, and it's come off the back of his arm.
"His arm is slightly extended out from the body. It could be marginal if it was on the T-shirt line and it comes off the right arm.
"For me, it's not a penalty.
"That's incredible. There's not a chance that it's deliberate.
"It's a crazy decision to book him.
Are you in favour of VAR?
Yes!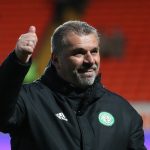 Get rid!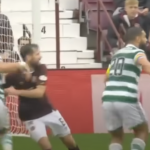 "It's on target, so I can understand why the ref has looked at it.
"The movement of his arm is away from the body, he's turned away and it's the top part of his arm, which is very, very harsh."
TIF Thoughts on the Celtic handball decision…
We agree with Crichton that this is a harsh decision, though we can also see why the referee may have felt compelled to award the penalty.
In terms of the incident itself, the ball strikes Bernabei from close range and there was absolutely nothing he could do to avoid making contact. He is also jumping and twisting as the header comes in, so it surely cannot be deemed deliberate.
That said, his arm does appear to be in a slightly odd position, and by the letter of the law, this is perhaps sufficient criteria for a penalty – though it is purely his momentum that causes this.
There is also the matter of VAR to consider, and following its recent introduction, it would perhaps be brave (if not refreshing) for the referee to stick with their original decision upon review.
All in all, it felt like the odds were stacked against Celtic from the moment Bernabei touched the ball – deliberately or not. Rightly or wrongly, we can't help but feel this decision goes against the spirit of the game.