The Brazilian stole all the headlines for his nation this week when he scored twice in their opening group stage win at the 2022 World Cup against Serbia.
Indeed, not only did the Spurs forward score both goals in the 2-0 victory, but his second strike was an eye-catching scissor kick that will likely go down as one of the goals of the tournament.
Despite this obvious display of great quality on the biggest stage,
While talking on TalkSport, the pundit said (1:24): "I don't think he'll ever be world-class. When I look at him, he'll have a game like that today [for Brazil] but then he does it for Spurs.
"Sometimes he'll have these great games, but then the next game you think he's ordinary. So I don't think he's going to go to that elite level."
and Spurs…
The forward joined Tottenham this summer for the notable transfer fee of £60m. Seeing as he left Everton for such a price, those at Spurs most certainly be of the opinion that he could potentially be 'world-class' one day, if not already.
To be fair to
Then again, when representing Brazil, he has been in incredible form, scoring nine goals in his last seven international outings. That certainly sounds elite but if the 25-year-old wants to convince everyone of his status, it seems as though he'll have to do it for both club and country and not just one or the other.
Would you say Richarlison is currently world class?
Yes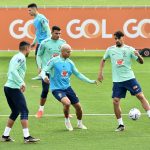 No