Journalist Dean Jones has explained that Tottenham Hotspur may find it hard to sign James Maddison in the winter transfer market amid current rumours and his recent 2022 World Cup call-up.
The midfielder has long been tipped with a possible move to Spurs, with Football Insider recently claiming the 25-year-old has even told friends he would 'jump at the chance' to join them.
The Leicester City star has been playing very well of late and has consequently been handed a spot in Gareth Southgate's England squad heading to the World Cup.
However, this latest development may make it harder for Tottenham to land their potential target in January, with Maddison said to be pretty loyal to current Foxes manager Brendan Rodgers.
While speaking on the Chasing Green Arrows podcast on what the midfielder's future holds amid interest elsewhere from Newcastle United, Jones said: "It's a tough one. He's got a real loyalty to Brendan Rodgers. Those two are very close. And obviously, Leicester's season has turned a corner.
"He's managed to make the England squad while still at Leicester, so he's achieved that. And I think from his point of view, he might look to see out the season.
"I think it depends. There's a chance Tottenham come in for him, too. So if it was Tottenham and Newcastle fighting for him, there might be a decision to make, there.
"But ultimately, we have to remember as well that Leicester… look, they hold out for what they feel a player's worth, and if now he's in the World Cup squad, it means his value has gone up.
"I don't know what we'll be looking at. I mean, it was what, 50, 60 million pounds we were talking about in the summer, so that's probably gone up now. So I personally think he'll probably see out the season, but let's see what happens on the back of the World Cup."
TIF Thoughts on James Maddison and Spurs…
The Englishman has certainly earned his call-up to the Three Lions. Indeed, he has seven goals and four assists in 13 league games this term. On top of that, he netted an impressive 18 goals in all competitions last season.
With that in mind, it's no shock to hear Spurs and Newcastle may well be 'fighting for him'. However, seeing as he is doing well enough with the Foxes to place himself in the international setup, he might not be so desperate to leave this winter.
And if he plays well at the World Cup, he could end up being worth an absolute premium by the time the January transfer window opens. Taking everything into account, it's easy to see why this deal might have to wait until the summer as far as Spurs are concerned.
Do you think Spurs will sign James Maddison this winter?
Yes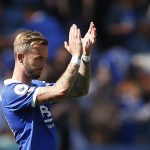 No