Alasdair Gold has admitted that Tottenham Hotspur boss Antonio Conte went bananas when Pierre-Emile Hojbjerg scored his late winner on Tuesday.
Conte was serving his suspension from the touchline on Tuesday evening in Marseille after his red card in Spurs' last home game in the Champions League, meaning that he couldn't directly bark his orders at the Spurs players.
Instead, the Italian tried to keep his cool up in the stands while Spurs were seemingly heading for a 1-1 draw and a spot in the Champions League, but a last-minute winner from Hojbjerg seemingly tipped him over the edge, according to Gold.
The Spurs journalist has admitted on his YouTube channel that he saw Conte go mental once the Denmark international netted in the final few seconds.
He said: "The Spurs players went mad [when Hojbjerg scored], the Spurs staff went mad, the fans went mad and Conte went bananas up in the stands, he was just going crazy and hugging everyone, he essentially grabbed Gretar Steinsson like a bear hug and nearly ripped his head off him at one point.
Will Spurs back Conte in January?
Yes!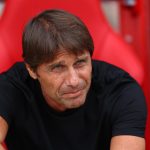 No!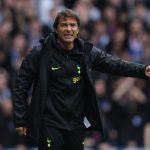 "I would have loved to have known what Daniel Levy was making of it all, that new experience of having such a livewire of a football man behind him just going bananas at everything, raging, screaming and then loving it, it was mad."
TIF Thoughts on Conte…
That is certainly the sort of personality and person that Conte is, he wears his heart on his sleeve, doesn't appear to care too much what people think or have to say to him, he just wants to let his feelings be known and get his message across.
As well as all those features of Conte, the fact that he is also a serial winner as a manager is a huge reason why Spurs must move heaven and earth to ensure he doesn't leave the club and instead, sign a new contract, something he's seemingly holding off on at the moment.
Conte being up in the stands will have been torture for the Italian manager to not be able to let his players know exactly what he wanted from them but it will have brought him great delight seeing them pull off a hugely important win without his big influence on the touchline.