Journalist Craig Hope has admitted that he was left blown away by the way Nick Pope filled the goal during Newcastle United's penalty shoot-out victory.
It certainly wasn't a classic at St James' Park last night in the Carabao Cup, with both sides only managing to register a combined total of seven shots on target across the 90 minutes, which forced the game into a penalty shootout.
The hero on the night was summer signing Nick Pope, who managed to save three penalties against Palace and saved the blushes of Sven Botman and Bruno Guimaraes, who squandered their chances from the spot.
Hope has admitted on his Instagram page that the way Pope filled the goal during the shootout clearly put off some Palace players last night.
He said: "Nick Pope was absolutely tremendous. They were good saves as well, especially the first one [which] was a flying save above him, and then you just knew there was just something about his presence in the goal. When you watch a goalkeeper during a penalty shootout, they've got that intimidatory factor about them, and Pope, it just looked as if he filled the goal, it was quite incredible.
Has Pope been Newcastle's best summer signing
Yes!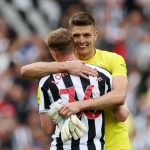 No!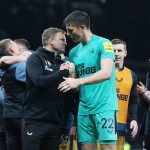 "He looked like a goalkeeper who was going to save penalties and he duly saved three of the five and spared his teammates' blushes – well, certainly two of them, Sven Botman and Bruno Guimaraes – the less said about Bruno Guimaraes' penalty, the better, really."
TIF Thoughts on Nick Pope…
The Newcastle shot-stopper only cost the club £10m over the summer having signed from relegated Burnley, and he has gone on to become the club's No 1 and earned two more England caps, while he currently has the most clean sheets in the Premier League.
Pope has made 41 saves in the top flight this year, which has hugely helped Newcastle boast the tightest defence in the division along with table-toppers Arsenal, so it's no surprise his confidence will have been high heading into the penalty shootout.