The England star has been key for the Foxes in the Premier League up to this point, notching seven goals and four assists in 13 outings, playing in all but two matches.
As a result, Gareth Southgate opted to add Maddison to his squad list and so the midfielder will be travelling to Qatar 2022 with the Three Lions this winter.
However, it seems that not everyone is convinced the Leicester man will play much of a role for England at the World Cup, with some suggesting he might not even get a minute.
Indeed, while speaking about the player's chance of playing regularly at the tournament, Jones made his point rather bluntly on the Chasing Green Arrows YouTube channel.
He said (46:39): "I just don't see what happens. I mean, he's crept into the 26. There's a very good chance he doesn't get a minute.
"Because the thing, the group games, you'd have thought: right, he could play against Iran, like England should win that game. But it's the first game, so he is not going to start that game. Maybe if they're 2-0 up, he might bring him on or something like that.
"And then I guess he could play against Wales in the final game, but I can't see him playing the USA game. I think it'll be too important, I don't see which role he would play.
"I just think so much is made over these squads and worrying about the last two or three places. Typically, those players don't get a single minute on the pitch. And it doesn't matter."
Will James Maddison get any minutes at the World Cup?
Yes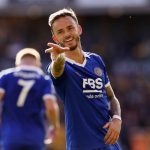 No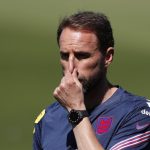 TIF thoughts on
Having also scored 18 goals in all competitions last season with the Foxes, it's fair to say Maddison has been on top of his game for some time now.
And so it's certainly fair to say that he has earned his spot in the England squad. Even so, that doesn't change the fact that he last played for the country back in 2019 – which was his only senior cap.
With that in mind, it would be a bit of a shock to see him walk right into the starting team, or even be the first pick off the bench in any games. Evidently, Jones may well have a point here.
But Southgate wouldn't have picked him if he doesn't have any faith, and so Maddison may yet have his say on the Three Lions' World Cup hopes.