After his most recent shocking Everton performance, Tony Scott slammed Anthony Gordon on the All Together Now podcast.
Evertonians and Frank Lampard have had to watch on as Gordon, who was linked with a £60m transfer in the summer, has put in poor performance after poor performance, which is highlighted by his record of seven yellows cards in 14 appearances.
Toffees fans have seemingly started to turn on one of their own when it comes to the 21-year-old, which could be down to the fact he is reportedly demanding £100,000 per week if he is to sign a new contract at Goodison Park.
Scott now believes that Lampard has a big problem on his hands amid the winger's recent performances.
He said: "What's the difference between the Anthony Gordon that was taking two or three players on at the start of the season and scoring all kinds of goals? Now, we're getting the same Anthony Gordon every single week.
"He's been subbed off every week – again, last night [against Bournemouth] he was subbed off. Again, a frustrated tackle, yellow card – another yellow card to his name, that's seven for the season. Seven yellow cards in 13, 14 games.
Does Gordon deserve to be dropped?
Yes!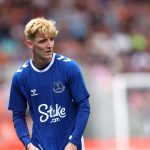 No!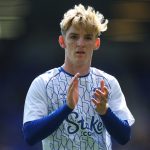 "Everton have got a real, real problem. Frank Lampard's got a problem with him because I understand [the argument that] the system might not be suiting him – there's nobody in the box, you've got Maupay to pick from, he's got two defenders in front of him.
"But this is the same Anthony Gordon that was getting you off your seat and taking two players on, getting to the byline and getting a corner, getting a throw-in.
"If he loses the ball down the Bournemouth end, so be it. It's when you're losing the ball in your own area I think Evertonians have got a problem with. You've probably got more talent on that pitch than any other footballer out there, yet he's choosing not to do it, he's choosing not to take that player on."
TIF Thoughts on Gordon's form…
Nothing highlights how poor and frustrating Gordon has been this season more than his seven yellow cards in 14 games, which also means he's picked up more cautions than goal involvements.
Given that Gordon is an Evertonian himself and came through the club's academy, he may be afforded more leeway when it comes to poor displays, but if he is serious about wanting a major pay rise with a new contract, he'll certainly have to step up this season.
Lampard and Everton may well be kicking themselves over the fact they rejected bids from Chelsea and Newcastle United over the summer for Gordon, as that could've helped them upgrade their entire squad, and instead they're stuck with an out-of-form youngster.