Tony Scott has ripped into Frank Lampard seemingly instructing his Everton side to keep putting crosses into the penalty area.
While Scott believes that Everton are constantly putting crosses into the box to Neal Maupay – someone who isn't a traditional target man – they have only attempted 239, which is the eighth-lowest total in the top flight. However, they are yet to score a single header in the league.
Therefore, when they are aimed at someone such as Maupay, it will beg the question as to why they are pumping balls into the box instead of trying to work it into the Frenchman's feet.
Scott has indeed been left angered by the Toffees' apparent desire to keep whipping balls into the box with next to no reward, and spoke about this on the All Together Now podcast as he expressed his anger to co-host Greg O'Keeffe.
He said: "Me and you know, Greg, and every Evertonian out there, my mum knows nothing about football, but knows that if there are wingers on the ball and they're throwing balls into a box into Neal Maupay, who's what, 5ft 10? He's being marked by two big centre-backs – what is the point?"
Do you want Lampard sacked?
Yes!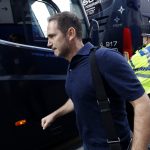 No!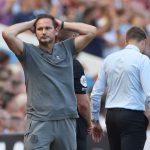 TIF Thoughts on this Everton tactic…
While Everton aren't putting in a high number of crosses compared to other teams, the fact they are still yet to score a headed goal shows just how pointless they really are, especially in Calvert-Lewin's absence, as Maupay clearly does not provide that focal point up top.
However, what makes their lack of crossing threat more surprising for Evertonians is that they have the tallest squad in the Premier League, which shows why Lampard is wanting to get balls into the box, but he could indeed now have to resort to a plan B.
Therefore, the problem for Lampard appears to be that he doesn't seem to have a Plan B, as the Toffees have completed the fifth-fewest amount of short passes in the league, which may suggest why they persist on the crosses into the box, as the manager perhaps doesn't trust his players to play short passes and work the ball into the area.