Journalist Charles Watts has predicted Mikel Arteta will play a strong Arsenal team this week in the Carabao Cup, with William Saliba and Gabriel Martinelli both tipped to start.
After an impressive season so far which sees the Gunners top of the Premier League and group winners in the Europa League, the club may well need to prioritise what is most important to them this season.
Indeed, if they want European and domestic success, they may have to put less effort into the Carabao Cup this time around. They have a fixture at home against Brighton & Hove Albion coming up, but Arteta will be expected to rotate.
Even so, while speaking on his YouTube channel, Watts has claimed that Arsenal will likely play a 'pretty strong' team against the Seagulls in the third round of the competition.
He said: "I still think he will go pretty strong, like he has done the whole way through the Europa League.
"I imagine there will be at least a couple of the Premier League regular starters involved in that game. I've got a feeling it will probably be Saliba and Gabriel Martinelli, just because they didn't start the game last week against FC Zurich.
He concluded: "So I think those two are probably going to start for Arsenal, and then it's going to be the Europa League side, basically."
TIF Thoughts on Arsenal…
The Arsenal manager has asserted that the club will play a 'very competitive team' in the Carabao Cup, so the likes of Saliba and Martinelli may well be in for a start.
Indeed, Arteta told club media: "It is a different competition but the purpose is the same, to play as good as we can, win the game and go into the next round, You know there are no second chances and we'll take it very seriously.
"We're going to pick a very competitive team. I think everyone deserves chances, and we'll make some changes with judgement in relation to the load of the players, but we'll play to win."
With just two games left to play before the winter break – one in the cup and one in the Premier League – Arteta will be hoping his team can stay fit and healthy going into the World Cup.
He will no doubt prioritise the league match against Wolves at the weekend, so we think plenty of first-team players could be in line for a rest against Brighton.
Would you start any first team regulars in this cup match?
Yes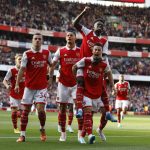 No