Journalist Charles Watts has revealed that Arsenal will soon hold a meeting with the agents of transfer target Facundo Torres – although a deal is not close to happening at this stage. 
It has long been touted that the Gunners are in the market hoping to sign a new forward. However, it has been unclear as to who exactly this 'mystery winger' could be.
One name that has suddenly popped up as a possible solution to this question is Torres. The Uruguayan international currently plays in MLS with Orlando City.
Indeed, while speaking on his YouTube channel, Watts explained that it is true there is interest, but it's all in the early stages and a deal with Arsenal is 'nowhere near' being completed yet.
He said: "I've seen reports saying 'this is close', 'it's imminent', 'the agent is flying in this weekend to complete the deal' – stuff like that. That's not how I see it at all.
"My understanding is it is still very much at an early, advanced stage, and at the moment, there has been no talks between the clubs or anything like that. It's very much just things going on behind the scenes and this is a move that's kind of being pushed a little bit by one of the Arsenal recruitment team. That's how early, as far as I'm aware, we are at the moment.
"It's more of he's been identified as a potential target by the recruitment team. The recruitment team liked him, they've fed back their feedback to Arsenal, and now, as far as I'm aware, this weekend, there is going to be a meeting between Edu and the players' representatives. So that's where we are. It's nowhere near a deal being done or anything like that."
TIF Thoughts on Facundo Torres and Arsenal…
The 22-year-old has impressed this season over in the United States, having scored 13 goals and provided 10 assists in 40 appearances across all competitions (via Transfermarkt).
What's more, he possibly caught the eye during pre-season this summer when he netted against Arsenal in a friendly which the Gunners ultimately went on to win 3-1.
The winger could provide important depth to the club on the flanks, too, seeing as key man Bukayo Saka is currently suffering from a minor injury; if he was to be out for the long term, he would be sorely missed.
With the club leading the Premier League, they'll want to have the best chance at a strong second half of the season and so may well be keen on signing Torres. For now, though, it seems that transfer still has a few hurdles to get over.
Would you want Facundo Torres at Arsenal?
Yes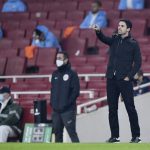 No