Journalist Charles Watts has claimed that Arsenal sporting director Edu Gaspar will find it harder to sort a new contract for Bukayo Saka after his recent display. 
In the opening game for England at the World Cup, the Three Lions cruised to a 5-1 victory over Iran. However, the 21-year-old winger stole headlines as he scored twice and picked up the player of the match award.
Of course, there has been much talk in the media of late regarding Saka and a new contract at Arsenal and Watts has warned that it will be more difficult to agree on financial terms now with the player's stock rising.
When speaking about the player on his own YouTube channel, Watts explained (5:06): "It just makes sense. It fits when it comes to Bukayo Saka and that's why he has to be at the heartbeat of this club for many, many years.
"So, Edu's got a big job on his hands, when it comes to sorting out his future because it is just so so important. And this World Cup is probably going to put even more money on the table, in terms of what Arsenal are going to have to pay him.
"And that's why any agent in the world would be mad if they're committed to a new long-term contract before the World Cup, and I'm talking about [Gabriel] Martinelli, [William] Saliba and Saka here. It just wouldn't have made sense. Because, why would you commit before he goes there and does it on the world stage and performs well? You're just going to have a much stronger bargaining tool.
"I'm sure Arsenal would have expected that. And this may well put more money on his contract. But, having said all that, just get it done. Everything has to go into getting this deal done. It's so so important because we want to be celebrating Bukayo Saka for years to come when it comes to Arsenal.
TIF thoughts on Bukayo Saka and Arsenal…
As alluded to by Watts, the likes of Martinelli and Saliba are both Arsenal players who are also yet to sign new deals amid plenty of media speculation. Like Saka, they too will be at the World Cup and hoping to impress.
Seeing as the Englishman is proving himself at the very highest level – having already shone for the Gunners this term – it wouldn't be a shock if some big clubs were carefully monitoring his contractual situation.
Indeed, Manchester City have been one side linked with possible interest. With that in mind, plus all this recent World Cup hype, if Arsenal want to keep their key man in north London they may now have to offer him a pretty big wage.
No wonder Watts has urged Watts to get the deal done.
Is Bukayo Saka Arsenal's best player?
Yes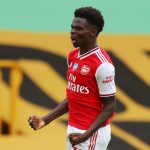 No