Former referee Dermot Gallagher has claimed that Thiago Silva did not deserve to be sent off for his foul against Crystal Palace.
In their latest Premier League fixture, the Eagles will feel hard done by to have come away from the match without even claiming a point from the 2-1 defeat.
It would have been the most bitter blow to concede to Chelsea in the dying stages of the game via a wonderful strike from former loanee Conor Gallagher.
To make things worse, though, the Blues were lucky not to have Silva sent off in the first half of the game when he deliberately handled the ball to stop Jordan Ayew from running through on goal.
At the time, the referee deemed it worthy of just a yellow card, and speaking on Sky Sports' Ref Watch (via Football Daily) Gallagher has agreed with this decision.
Indeed, he said: "I think it's a yellow card. I think the referee is right. The reason I say that is that I think it's a possible goalscoring opportunity – I don't think it's obvious.
"I think Ayew has to get the ball. He then has to go a long way, he's got to go towards goal. Will he have enough to be able to get there before the defender?
"And that's why I say it's possible. And I think it's got to be obvious to send off [Silva].
"Somebody did throw in a red herring to me yesterday saying, 'well he handled the ball twice, so he could get two yellow cards'. But you can only give one handball, so it can only be one yellow card, so that one can be killed very quickly."
Do you think it should have been a red card?
Yes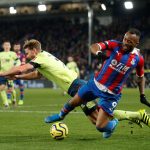 No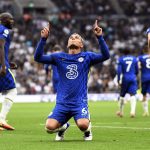 TIF Thoughts on Crystal Palace and the foul…
It seems as though Patrick Vieira certainly didn't agree with the decision and ended up being booked for his protests by referee Chris Kavanagh, before refusing to comment any further on the issue in his post-match press conference. 
Chairman Steve Parish, however, was considerably more blunt as he took to Twitter to ask what the point of VAR is, while also suggesting it should have been a red card for two separate yellows – a notion that Gallagher refuted.
It seems as though Silva was a lucky man as Ayew looked more than capable of running directly through on goal, but evidently, there was enough doubt over that in the referee's mind to prevent a red card.
All in all, it's easy to understand any anger from a Palace point of view as that could have easily been a red card on another day.