Jack Pitt-Brooke of The Athletic believes Tottenham Hotspur's Lucas Moura political stance is a 'big PR problem' for the club. 
The 2022/23 Premier League season has gotten off to a great start for the north London club, as they currently sit third in the table, just one point off the top.
However, it looks a like a potential speed bump has arisen, especially for the PR team, as star player Moura recently shared his political views and support for right-wing Brazilian president Jair Bolsonaro.
In a recent interview, Lucas expressed his support for the president ahead of the upcoming Brazilian elections and compared his rival's values to 'Nazism'.
During a recent appearance on the View From the Lane podcast, Pitt-Brooke revealed this has been a huge problem for the club, as they did not want the Brazilian international to speak about his political views at all.
He said: "Yeah, it is a big PR problem. I think it's been a PR problem for Tottenham for a while. I know for certain that they have, in the past, been very, very reluctant for Lucas to talk about his politics in public – it's been no secret what he thinks.
"He has made comments not very different from this in Brazil in the past. His social media have often indicated that he's a very vocal supporter of Bolsonaro.
"And Tottenham really don't want it to be their problem, to be honest. They don't want Lucas to talk about it, they don't want Lucas to be asked about it. And so the fact that Lucas has now made these comments in public does present a big problem for Tottenham."
TIF Thoughts on Pitt-Brooke's comments…
After their great start to the season, the last thing the Spurs brass would have wanted is controversy around one of their players, especially a player like Moura who has been a fantastic servant for the club since he joined.
The 30-year-old has picked up 204 appearances across all competitions for the Lilywhites and chipped in with 38 goals and 27 assists during that time, including his historic winner against Ajax in the Champions League that saw them reach the final.
Moura has potentially ruined any hopes of a legacy at the club with his recent comments, which is a shame for such a talented player who was responsible for one of the greatest achievements the club have ever managed. It is unknown how the club and player will deal with this issue, but we hope they can come to a sensible solution.
Should Spurs discipline Moura?
Yes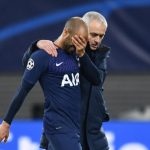 No